Make Pre-Wired Your Priority
There are several ways to be entertained these days. Video and high-fidelity audio are trending the most. They get streamed from place-to-place in order to deliver a superb entertainment experience. You can find them online or around your house. Either way, you should consider following certain practices when using this technology.
Most video and audio gadgets have wireless capabilities, such as Bluetooth and Wi-Fi. However, the traditional wired connection still has more speed, security, and reliability than wireless connections when it comes to transferring data. This is the case for internet connections and smart devices like speakers and security cameras.
Whether you're remodeling your current home or constructing an entirely new one, it is critical to proceed with the pre-wire process. During this process, you check each internal location to ensure they have connections which run under the floors and throughout the walls of the home. This is easier to get done before the home is ready. Otherwise, you'll be ripping away wallpaper and floor coverings in order to install your kit. The people who reside in the home won't be too thrilled about that.
Your home will appear more organized with a low voltage wiring installation, such as speaker wires or cabling that are a CAT6 or CAT5. They're also more effective when used.
If you need help finding the most practical areas to set up your equipment in or the best method for pre-wiring your home, then you should take advantage of our comprehensive consulting service. Our experts can assist you with any system or connection, such as figuring out the most effective speaker position for getting the best audio reproduction possible.
When you plan the connectivity of your devices ahead of time, you can connect your big screen television to several speakers and a Blu-Ray player without cables being scattered all over the place.
When you listen or view media over a high-speed wired internet connection, the data transfer rate is better and more stable. You will not experience lag or interruptions while playing this content. The same cannot always be said for Wi-Fi connections. Although Wi-Fi is strong for basic data transfers, the connection can get rather unstable if you're trying to view an HD video or some other massive file. It is even worse if another user is sharing the same connection too. As for a wired connection, it keeps the data transfer rate consistent and without any interference from another user.
If you're interested in our home security system installation cost and pre wired home alarm system or you want to know more information, please contact us, and we'll be more than happy to assist you with your media projects.
Ask yourself these questions first:
Do I want to listen to music throughout my home?
Will there be more than one computer used in the home?
Am I going to have a television with a satellite, cable, antenna, or all three?
Will you want control in every room?
Will the telephone jacks be sufficient?
Do I want a home theater installed? If so, will it have surround sound?
Will I consider paging and answering doors?
Do you want one control set to handle the video, music, temperature, and lighting?
Start the pre-wire process right away!
The Advantages
You might only think about home electronics based on what you know to be possible. Try thinking outside the box to some other possibilities:
Play different kinds of music in each room of your home
Use your smartphone device to answer your front door
When your smartphone rings, the music automatically mutes
A single set of controls
Watch your house when you're not there
High-quality video and superior sound
Let your home theater be seen throughout the house
New House Pre-Wiring Process and Home Security System Installation Cost
There are so many decisions to make. Unfortunately, most new homeowners aren't thinking about these kinds of decisions while they're starting the process of constructing their home. It is normal for new homeowners to wait until later before they start thinking about home electronics. This is a bad thing because it can be quite costly to make these decisions while the home is nearly finished being constructed. At least consider your electronic preferences prior to the drywall installation. Your life will be so much easier and less costly this way.
If you are a builder or contractor and you don't  know much about electronics let us help.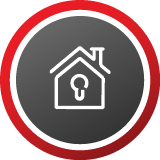 Advantages of hard-wired security systems
Hard-wired security equipment is usually less expensive than wireless equipment. No batteries also means lower maintenance and added savings as well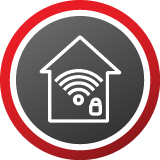 Advantages of wireless security systems
Wireless systems tend to meet the requirements of modern technologies and offer certain expected conveniences