At Chicago Security Expert, our tech experts and wiring specialists can determine and construct a wiring solution that meets your needs for home conveniences as well.  We'll meet with you to develop a system specifically for your daily necessities. Consider Chicago Security Expert for solutions aimed at more efficient thermostat, doorbell, garage door and lamp module solutions.Consider Chicago Security Expert for solutions including smart hubs and voice control devices along with more efficient thermostat, and lamp module solutions as well.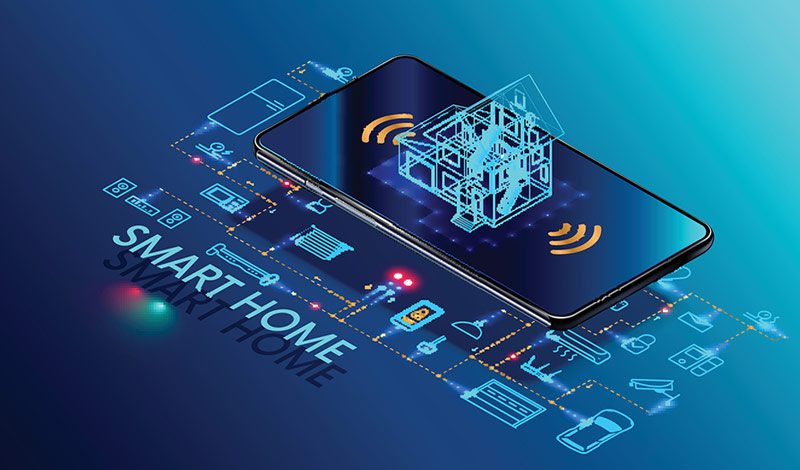 Z Wave devices
Chicago Security Expert works with you to make smart homes even smarter. That's why we offer solutions that utilize the state-of-the-art Z-Wave technologies.  With Z-Wave products, Chicago Security Expert can customize your smart home to meet your needs with colors, styles and device types that appeal to your personal tastes. Whether you have an existing smart home or are looking to start, our team will work with you to find the right products and solutions.
Smart Hubs/Smart Speakers
Chicago Security Expert will help bring simplicity and convenience to your home for you to use throughout the day and night. Play music, read the news, set alarms and timers, answer questions, listen to audiobooks and more, all with the power of your voice.
Thermostats
Chicago Security Expert will help you take advantage of today's technology to control your smart home's energy usage. We will install a thermostat that you can control via your smartphone and that responds directly to your home environment.  Save money on energy bills and enjoy the convenience of off-site control with smart thermostat solutions from Chicago Security Expert. We can even install motion-detected thermostats that shut off when no motion is detected.
Lamp Modules
Chicago Security Expert will work with you to develop a lighting system that meets your needs.  Smart lighting can play a role in both safety and convenience. We will help you to remotely control your lights, including turning them on or off, dimming them or even changing their colors. We will also help you program schedules to turn your lights on and off a certain times.
Home Theater
Chicago Security Expert knows that home entertainment is no longer just a luxury, it's practically mandatory. We work with you to integrate your home theater into your overall system of wired and wireless technologies. This includes bringing Internet content into your home theater experience as well as providing for the convenience of mobile accessibility. Plus, adding a home theater can boost your home's value as well.
TVs/Blu-Ray/3D
Chicago Security Expert will work with you to determine how certain TV and television entertainment systems best work in your setting to meet your tastes and demands.  We will not only make sure your equipment is seamlessly installed, we'll also help optimize your viewing angle and distance for the ideal experience. We also will help ensure the audio is optimized with the right speakers in just the right places.
Video Projectors/Lampless LED Technology
Chicago Security Expert can work directly with those who seek out jumbo-sized entertainment ranging from 70 all the way to 200 inches. For those who want an even more elaborate setup, we can work with you to add a retractable screen and a light-controlled viewing room.
Internet Streaming Capabilities
Chicago Security Expert can help bring internet content into your home entertainment set up. Your home theater can also be your ideal venue for everything from news and weather, to games, music, YouTube, Facebook, Twitter and more. We also can work with you to properly set up such internet-enabled devices such as gaming counsels and Blue-ray players.
Audio Systems
Chicago Security Expert will work with you to make sure your listening experience is ideal, whether it's while watching a movie or listening to your favorite artists. We'll help with a variety of audio systems as well as installing sound bars with capabilities that include video switching, iPod docking, DVD viewing and more.