Home Surveillance Security Systems Chicago
House break-in and trespasses on privacy are prevalent nowadays. Hence, you must secure your home in the best possible way. Fortunately, there are several home security options available to homeowners. Thus, it is even much easier to secure homes and families using top-notch home surveillance.
Home security does so much to guard the house, both in the presence or absence of the homeowner. These particular home surveillance cameras are programmed to inform the homeowner of potential danger. They also serve HD visuals at any time of the day or night. With these in place, you are guaranteed of a secured home at any time, whether you are at work, on vacation, or any other place outside your home.
Perhaps, you are not convinced that having surveillance cameras around your home is ideal? This is more common among homeowners who feel the big sizes and shapes make them obvious. Fortunately, developers have returned to the drawing board, and we now have new security cameras that are super thin and sleek. What's more, they have been designed to mimic the appearance of other gadgets, such that no one notices them.
Chicago Security Expert have unanimously identified three home surveillance cameras as the best options for homeowners, and these are:
Best-In-Class Surveillance Security Camera in Chicago

These cameras have inbuilt sensors that notify you of impending flood and fire situations, in addition to motion detection.
You can simply retouch them to your taste and purpose.
They also come with glass breaking sensors, garage doors sensors, and mobile viewing.
The best part, perhaps, is the ease of setup and usage, the easy-to-understand tutorials, and the advanced special protective features.
Hikvision is the homeowners' favorite, and the reasons are not far-fetched. First, the brand offers several options with relatively excellent performances. Also, the secondary options by Hikvision come handy for homeowners interested in different levels of protective gear.
Lts  Surveillance and Dahua surveillance cameras have been widely used by customers far and wide, with impressive reviews trailing such use. Yes, the exact protection needs of every household vary. However, in any case, it is always the best to go for surveillance cameras that suit your lifestyle and personal preferences.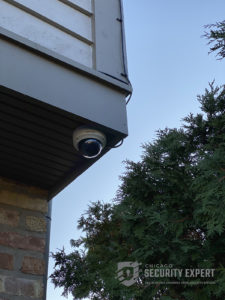 If you are interested in outdoor surveillance, ClearVU and SVAT offer the best equipment that suits such purposes. You can install them anywhere, considering their tiny sizes and discreet appearance. For instance, they fit perfectly into your new car, front door, and even your large front and back yards. The vision is always clear, either in the day or night. The greatest perk here is that they work in similar ways to the home surveillance systems. You can set up the devices to deliver live feeds to your online accounts, computer, or mobile devices at low prices.
Another prominent surveillance camera in the picture is the WIFI surveillance cameras. They are designed to be connected to the internet server of a personal computer. The setup is quite straightforward and could be completed in a minute. Popular brands in this category include DropCam and Samsung, with both known for their affordable, yet impressive products. You can share the live feeds with third parties, and in most cases, all these can be done with a single click.
Choose Chicago Security Expert for you security cameras installation
We do everything we can to protect who you love, your home and your treasured possessions!
We will install the best security cameras for family home or business.