Modern access control systems are an important element of security systems in companies, public institutions or multi-family residential buildings. They ensure supervision over the access of people to the premises and allow you to analyze user/employee movement in a given area. The card access system allows you to control and manage who has access to your property and to secured zones (e.g. server rooms, warehouses). It makes it possible for you to supervise the flow of people between individual facilities and monitor traffic in a given zone.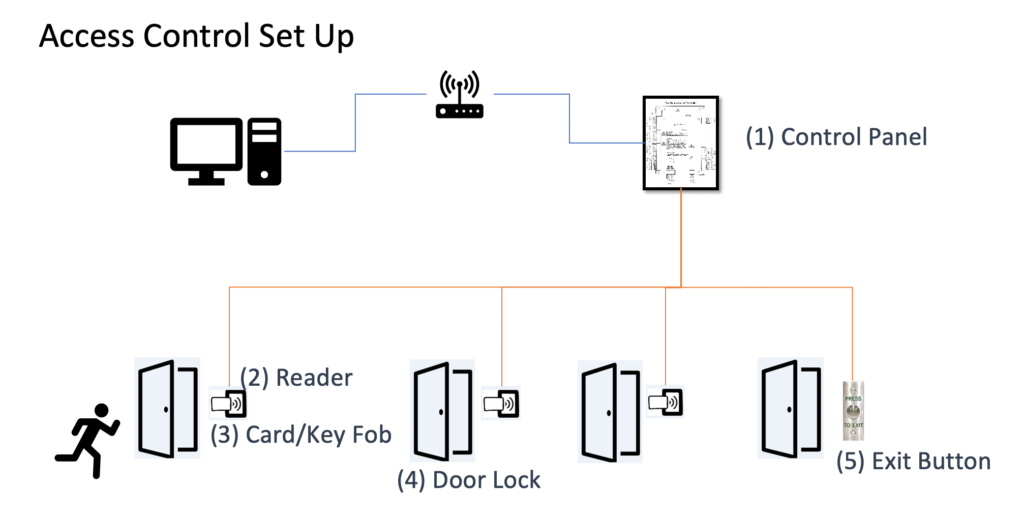 Access to entire buildings, areas in these buildings, or specific rooms is traditionally controlled with locks and keys. However, this type of access control has several drawbacks:
if many people use one entrance, it becomes more complicated to control access to the keys,
if one of the users loses a key, most often the cylinder of the entry knob or the entire door lock should be replaced, along with all issued keys (after all, you don't know if the key has been stolen or found by an unauthorized person),
if one of your employees is fired or chooses to move on to another job, you should basically proceed as above – even if the employee returns the key, it's very easy to have an extra key made,
if a certain person has access to many rooms, he/she will most often have to carry a heavy keychain, which is simply not a comfortable solution.
And although the existence of "master key" systems should be mentioned here, the access control system with all of its functionalities far exceeds these systems. The software enables the system administrator to quickly and easily assign individual people to access protected zones and define the access schedules.
Access control systems are more and more often used in various types of companies and enterprises to control access and monitor potential violations. In hospitals, offices and public buildings, the access control system enables the separation of public and business zones. In schools, it helps to keep students safe.
It's also important to emphasize the fact that modern access control systems are integrated with security alarm systems or CCTV systems, which significantly increases the functionality, usability and security of your property. In the case of integrating an access control system with fire alarm systems, it's possible to force open all doors in case of fire detection.
The access control system is designed to restrict access of unauthorized users to specific zones and to provide access to protected zones for authorized users. Each system consists of at least two types of devices. First of all, these are input devices that decide on the access to protected zones (encoders, card readers, scanners) and output devices that implement this access (electromagnetic bolts, electric locks, gates). Using the system's software, the operator can quickly assign and change authorizations to individual users.
Identifying users in an access control system can be done in many ways. In the simplest case, it can be a numeric or alphanumeric encoder, where access to the specified zone is obtained after entering a given code. More complex systems use badges in the form of cards with printed bar codes, magnetic stripe cards, proximity cards or key fobs. The data from these identifiers are read by the appropriate card readers. In systems with a high level of security, biometric readers (scanners) are used. These can be, for example, fingerprint readers, and retinal and iris readers. The basic function of all these readers is to read the identifier (PIN, card, fingerprint, etc.) and send the data to the master device, which compares the received information with the data stored in the database and makes a decision about the system's reaction.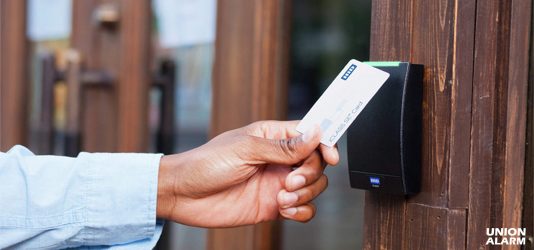 SUPERVISION OVER ACCESS TO SELECTED ROOMS
Restrict entry to secured areas to certain people and grant temporary permission to authorized persons. Personalize access for your employees and control all entry points. Eliminate key management.
CONVENIENCE IN ACCESS MANAGEMENT
Thanks to the access control system, there is no need to manage keys, re-enter or register keys, or to change locks when you need to limit or grant access to a given zone to your employees.
USER / EMPLOYEE MOVEMENT ANALYSIS
Get access to reports that will provide information on the flow of people throughout the property. You will always know who enters and leaves the protected facilities.
PROFESSIONAL INSTALLATION
Are you afraid that the card access system installation may be too much for you? Trust our experience. We will professionally and properly install both the access control system and its management software for you.
ACCESS MANAGEMENT FOR VISITORS
Manage non-employee traffic in your facility through your access control system by granting periodic access to visitors while restricting them from entering sensitive areas within your company.
DECIDE ON THE FUNCTIONALITY OF THE SYSTEM
Choose the features that suit you and pay only for them! You will receive an economical and affordable security system tailored to your specific needs.
What Are The Advantages of the Card Access System?
The main advantage, and at the same time the main function of the access control system, is the effective protection of entire facilities or selected rooms against the entrance of unwanted persons. It gives you the opportunity to automatically secure and monitor your entire property from a central location. Access control is also a convenience – it facilitates the entrance to rooms, for example for authorized employees. It does not require looking for an appropriate key, but only applying an RFID tag in the form of, for example, a card, or key fob, or applying a finger.
The system is convenient to use, fast and largely automated, so that the verification of user permissions takes place almost immediately.
Moreover, you can combine the access control system with other systems to increase its possibilities of use and range of operation. The most common option is to connect to the CCTV and security system.
At Chicago Security Expert we offer a comprehensive range of services. We provide a professional security system, card access control system and fire alarm system installation so you can rest easy knowing that your property is in the best hands possible. Call us today for a free quote and to and learn more about the benefits of having an access control system at your business.